So I'm very new to digital scrapbooking. I like it, but there is something to be said for having something you can hold in your hand as tangible proof of the work you did. So I will probably always also be a "paper scrapper". That being said, I really enjoy the freedom of making pages digitally. I can play with several sizes of photos and accents and find the perfect fit without having to constantly remake an item. It's also alot cheaper. I take pictures of everyday things like crayons, fences, walls, carpet, tile, grass, rocks, and use them as backgrounds for my pages. This saves alot of expense on paper and the like. Here's a page I did fairly recently on my PC: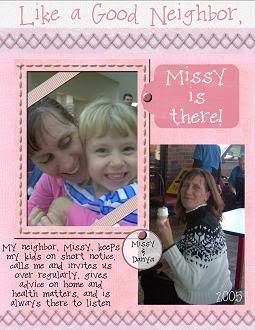 I like being able to use multiple fonts without having to print them out on my computer. Most of the elements on this page were purchased or freebies from various digital scrapbooking sites like
http://www.3scrapateers.com/
. What I would really like to learn is how to make those elements look that real and that good. I think that this is something that I would do well once I understand how. In the meantime, I will continue to practice and fiddle with my software. I'm really enjoying being able to make pages easily and then instantly submit them via email to my friends and family. The photo editing/digital scrapbooking software I use is from
http://www.novadevelopment.com/Products/productinfo.aspx?productCode=pdw
and I really like it. It cost only $50, and I got my rebate check two days ago for $20. Most other good software I've found like Adobe cost around $100. I'd eventually like to try one of those, but we can't afford it right now.