We went berry picking this morning and had a great time! The girls loved finding the "good ones" that were nice and black so we knew they were ripe. Danya filled her bucket first, but Gloria wasn't far behind.
Then our friends, the Millers, arrived and our girls helped their girls find the best bushes that were heavy with dark blackberries. They ate quite a few until they decided that they didn't like the seeds. It was so sweet watching Gloria help little Meagan! Gloria is only a year older, but she looked like a GIANT towering over petite little 2 year old Meagan. Danya was constantly tripping over the long limbs that had extended over the pathway here and there. She was afraid of the tiny little thorns that scratched her at first, but she quickly got more courageous. A nice stranger offered to take our picture as we were heading out, so here is all of us: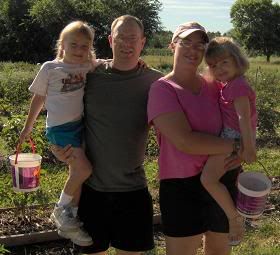 By a little after 10am it was just too hot, so we went home, made Blackberry Zingers in our ancient blender, and then got started with our homeschool lessons. But first we washed off all the red juice on our girls' hands and faces!